Wheat flour silo (flour storage silo) project is well running in Taian city, Shandong province in May 2018. This wheat flour silo system include 4 sets 70m3 steel silos with vibrating discharger. In general, we will make silo as assembly type with high level bolts and nuts, for this wheat flour silo project,we made welded type as customer's requirement.
70m3 wheat flour silo specification
Model–TCZK02807
Diameter–85m
Volume–70m3
RingbeamHeight–3m
Total Height–5m
Rings–7rings
Silo Roof Angle-25°
Silo Hopper Angle-50°
Vibrating Discharger Inlet Diameter-2000mm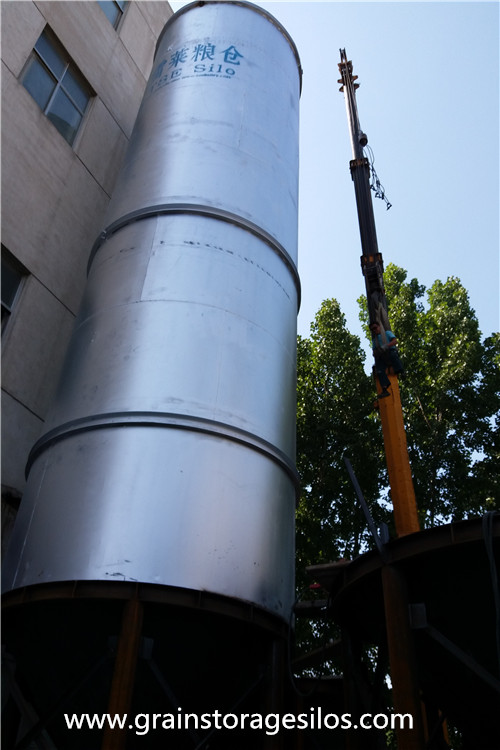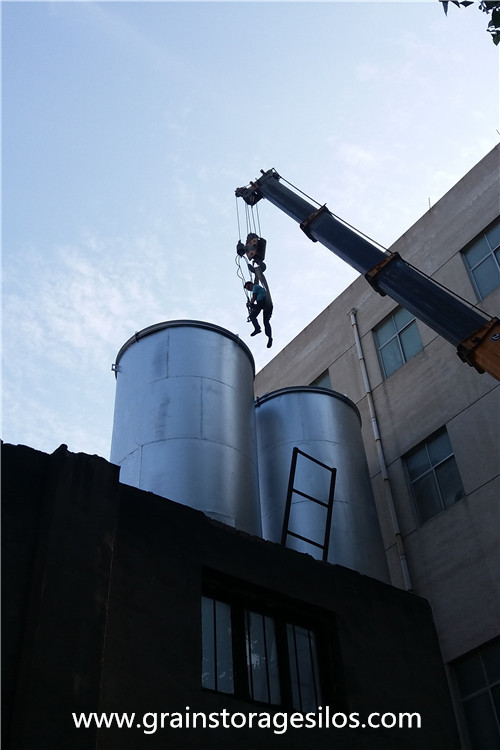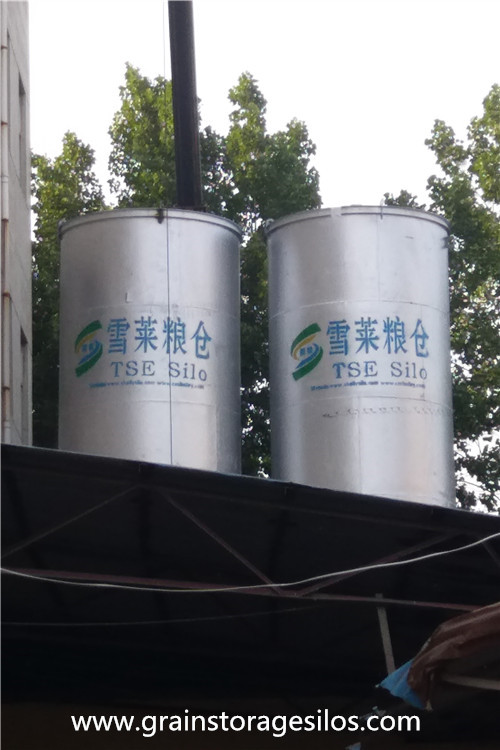 Powder silo (powder bin) includes the silo roof, silo body and silo hopper with legs. Powder silo roof, body, hopper are made of carbon steel, with food grade painting, make sure the safety of the flour; On silo roof, there are flour inlets, safety valve, Vibration filter, Explosion-proof vent, manhole. On silo body, there are ladder, ladder safety guard, level indicator.   Powder silo leg is made of round pipe or H beam steel (with normal painting), based on the silo size. According to the customer's requirement, Powder silo also can be made with stainless steel.
Powder silo can be used indoor or outdoor, round type or square type, no normal specifications. Shelley Engineering can design the flour silo to satisfy the your requirements.
Powder silos (Powder bins) are widely used to hold and discharge flour and other powder materials such as cement and PFA (Pulverized Fuel Ash). Powder is not easy to store and deliver. Powder steel silo is your good choice to hold and discharge weighty powder materials. Powder storage silos have the characteristics of lower cost, shorter construction time and unloading materials easily. The capacity of Shelley steel powder storage silos ranges from 20m³ to 800m³.
About TSE
As the professional grain storage silo manufacturers and suppliers, Shelley Engineering (TSE) had been dedicated in designing, manufacturing and supplying turn key grain storage solution for over 10 years. Our innovative, high quality products include flat bottom silos, hopper bottom silos, powder silos, feed silos, bucket elevators, drag conveyors, belt conveyors, dust collectors and grain storage control system, etc. There were more than 1,000 sets of steel storage silo projects running in domestic and 50 overseas countries since 2007. All our products are CE Certified.
Shelley Engineering (TSE) is not only manufacturing best quality grain storage silos and handling equipment products but also providing professional design and installation service. OEM, ODM, custom design and fabrication are also available. If you have any questions or inquiries,  please fill in and submit the following form, we will reply as soon as possible.