Spring Festival Party of Shelley Grain Silo Company was held successfully on Feb 1st, all TSE company staff attended the party in Wanda Realm.
The party contained a lot of wonderful programs, opening drums, songs, dance, comic dialogue, sketch, poetry recitation etc. What's more, the party interspersed a lot of interesting games, TSE staff enthusiastically participated and received huge prizes.
Grain silo company
There was a very important part of the party, "Outstanding Staff Awards". The outstanding staff was voted by all grain silo company members, TSE general manager presented the awards personally and later took the group photos with outstanding staff.
Some TSE salespeople invited their clients to the party, they sat together and had fun chatting, they trusted each other totally just like good frineds, they are full of enthusiasm and looking forward to the better future.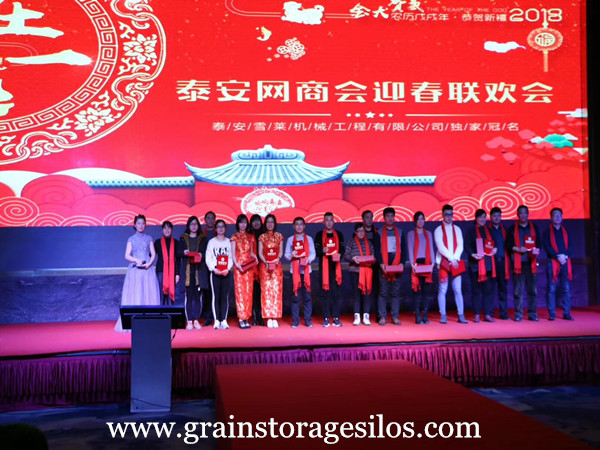 Inspired by the footsteps of spring, TSE have ushered a wonderful new year 2018. This year TSE will pay more attention to research and development, technological innovation and customer satisfaction. TSE will keep in mind the changeless aim "Let Shelley grain silo around the world". TSE know that as long as we make every concerted effort, the road ahead will definitely be brighter. TSE aspirations will come true one by one. Come on, all the Shelley Grain Silo families!
About TSE
As the professional grain storage silo manufacturers and suppliers, Shelley Engineering (TSE) had been dedicated in designing, manufacturing and supplying turn key grain storage solution for over 10 years. Our innovative, high quality products include flat bottom silos, hopper bottom silos, powder silos, feed silos, bucket elevators, drag conveyors, belt conveyors, dust collectors and grain storage control system, etc. There were more than 1,000 sets of steel storage silo projects running in domestic and 50 overseas countries since 2007. All our products are CE Certified.
Shelley Engineering (TSE) is not only manufacturing best quality grain storage silos and handling equipment products but also providing professional design and installation service. OEM, ODM, custom design and fabrication are also available. If you have any questions or inquiries,  please fill in and submit the following form, we will reply as soon as possible.