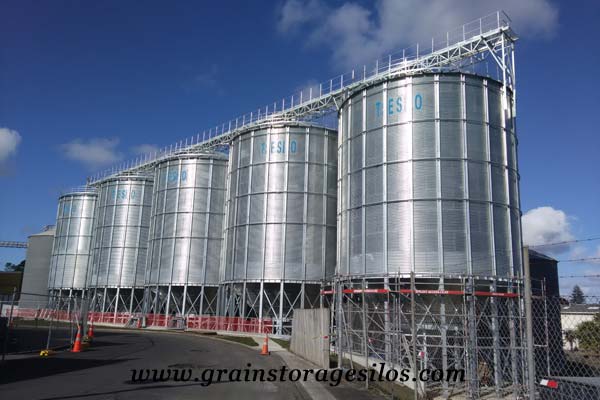 Hopper bottom silos (also called cone bottom silos, hopper bottom storage bins, hopper bins) are the steel silos with a cone bottom. Hopper bottom silos are erected on the supporting structure to make the delicate products unloading easily through gravity. Hopper silos have a smooth wall hopper transition with no steps or flanges to offer the cleanest product discharge from the silo. The stored products inside the silo are isolated from the ground, thereby preventing humidity and allowing the interconnection of silos through tapes, facilitating perfect extraction or dosage.
The hopper, rings and support steel are made of hot-dip galvanized steel sheet. All our hopper cones for grain bins are designed in accordance D-4097 or ASTM D-3299 standards for elevated cone heads. According to the stored grain products and storing situations, the hopper or cone angles are commonly designed at 45º and 60º. The structure of hopper silo depends on the type of products to be stored. In generally, free flowing products pellet products like corn, wheat, soybean and feed pellets require the hopper bottom silo with a 45° angle while powder or other material which is hard to flow fits 60° cone bottom silo storage.
Specifications of Hopper Bottom Silos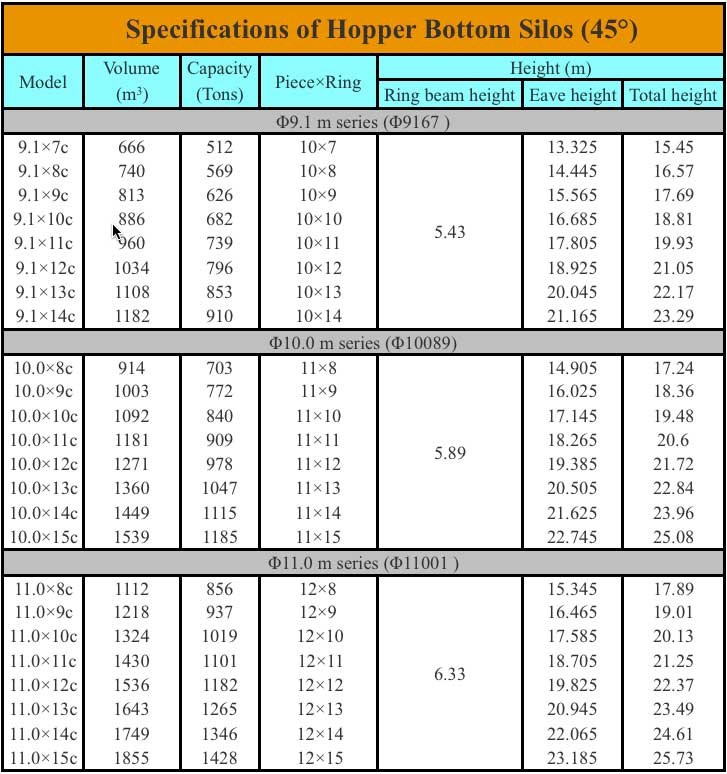 Main Components of Shelley Hopper Silos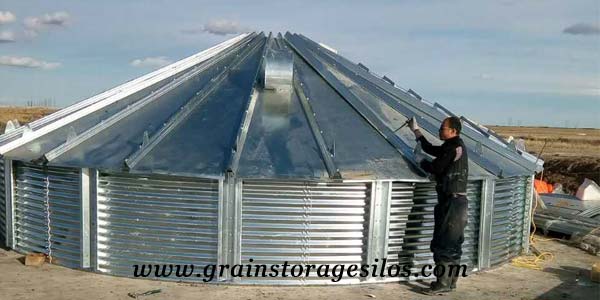 25º Sealed Roof
The special trapezoidal geometry of roof gives high strength and stiffness. The professional sealed technology enables tight connection of roof with the sidewall and keeps stored products from moisture.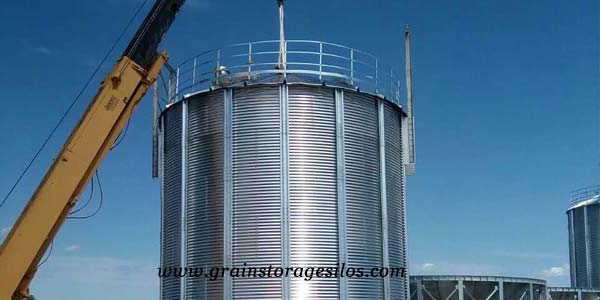 Cylindrical Body
Shelley Brand hopper bottom silos are made with body sheets and stiffeners, manufactured  with structural galvanized steel S350GD of high elastic tolerance and the coating equivalent to 600 g/m2 of zinc.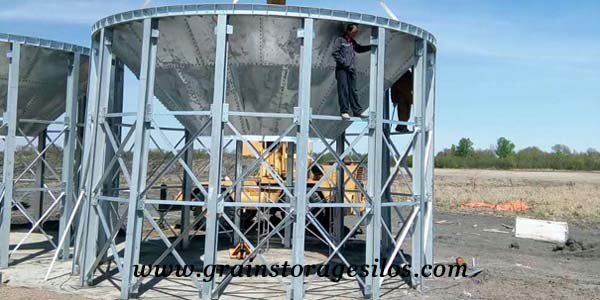 Galvanized Bottom
The cone bottom made with galvanized steel provides strength to support the silo and keep longer life span up to 28 years. 45º hopper is easy to unload delicate materials like feed pellets and other products.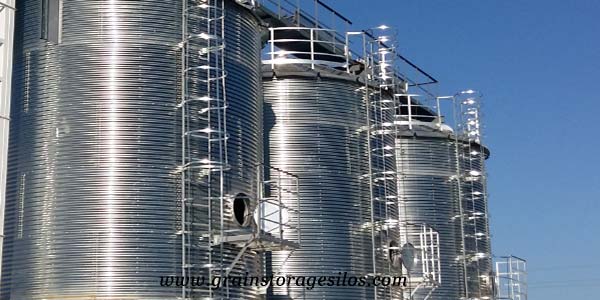 Access Ladder & Door
Shelley Brand high-strength galvanized ladders have roll-formed sides and stamped rungs to eliminate rung spin for easily climbing. The access doors gives the second ring to access to the interior of the silo.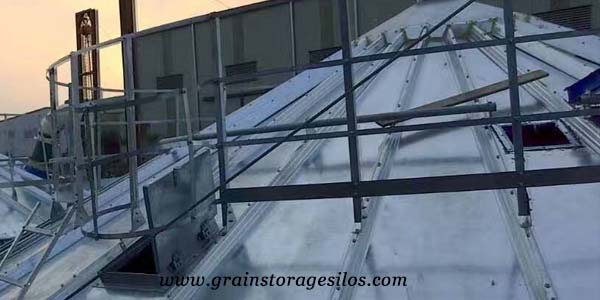 Inspection Door
Shelley designs and installs the upper inspection door  on the top of the steel silos to check the content and condition of the grain and treatments with a flexible cover for full protection of moisture and safety.
Hopper Bottom Insulated Bins
Like Flat Insulated Bins, Hopper Bottom silos can also be designed and installed with heat retaining layer to meet your special insulated grain storage demands. Hopper bottom insulated bins are effective facilitates to keep the stored products in finest quality and constant temperature from the dewdrop and moldy influence. The insulated bins are widely used in places where the temperature is large difference between the day and night and humid sites like seaside, they are also widely used in places where the weather are very cold at all seasons which can influence the seed vitality. Steel insulated bins will keep the stored products in controlled condition. The capacities of our assembly hopper bottom bins can cover the capacities from 10 tons to 10000 tons. 
The thermal insulated bin has three layers, the first layer is the inside layer, it's also the general silo component parts made with hot-dip galvanized corrugated steel sheets;  The second layer is the yellow part,  it is the insulating layer made with high-quality thermal insulation rock wool; The third layer is the colorful steel plate or galvanizing sheets.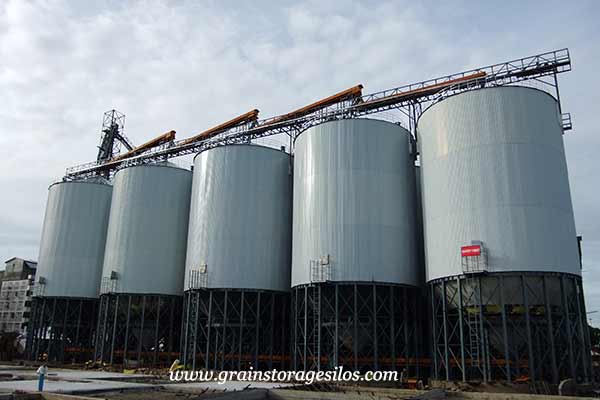 Production & Applications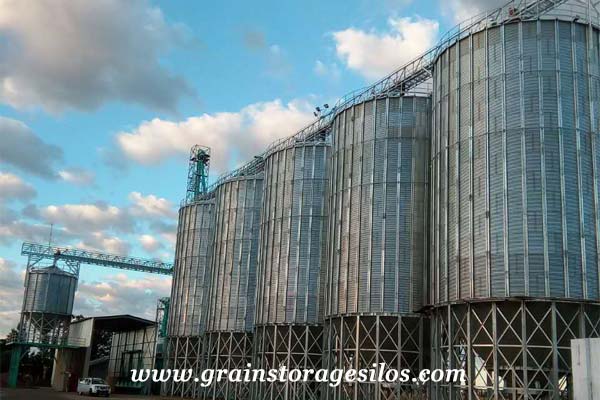 In recent years, we had invested more than 3,000,000 dollars into our 9,000 square meters state-of-the-art manufacturing grain silo factory. Our modern factory is equipped with the most advanced machines like fiber laser cutting machines, metal steel sheet CNC bending machine and professional welding line, etc , which give us the power to keep high product quality, shorter delivery time and competitive cost to meet the demands of our worldwide customers. Most products had been kept up with the international forefront counterparts. Some of them have enjoyed leading position, especially grain storage controlling software and grain security system.
Hopper bottom silos are widely applied for the storage of grains (sunflower seeds, soy, maize, sorghum, rice, industrial products and other products, etc) and feed pellets for animal, poultry and fish that require special storage conditions. They can also provide temporary storage of wet grain as part of a grain drying plant and other buffer bin applications in silo plants. They are widely used in poultry farm, rice mill, flour mill, soybean-oil mill, animal feed mill plant and brewery plant.
Some Successful  Hopper Bottom Silo Projects 
Our hopper bottom silo projects were successfully installed and run in Argentina, Australia, New Zealand, America, Uganda, Ethiopia, Honduras, Iran, India, Korea, Malaysia, Myanmar, Poland, Pakistan, South Africa, Sudan, Serbia, Thailand, Ukraine and Vietnam, etc.