Description of Feed Silos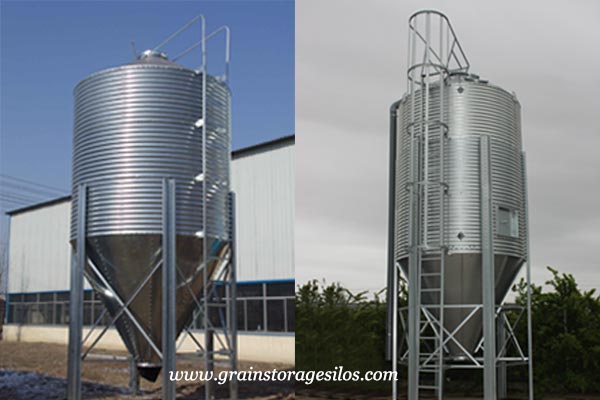 Feed silos (also called feed bins, gravity feed bins) are the steel silos with 60° cone bottom which are commonly used to storage small capacity pelleted products and grains, allowing them to discharge freely through gravity from the silo into a bag, barrow, conveyor or truck whilst ensuring that the stored products are in the finest qualified condition. 
All our feed silos are made with corrugated galvanized steel. The feed bin bottom is designed with with 60° cone to let the stored pellets flow out freely without fragmentized. The Galvanization of our silos is Z600g/m2 in accordance with UNE-EN 36130, which make them durable and weatuer resistant. The galvanizing sheet is 275g/㎡as standard design, according to some customers special request, 350g/㎡and 400g/㎡are options for their needs. Feed silos can help you get maximum efficiency when loading and unloading stored products. They are also protect the inside storage away from outside insects and danger. Feed silos can be integrated with automatic feeding systems for a variety of livestock industries.
Specifications of Feed Silos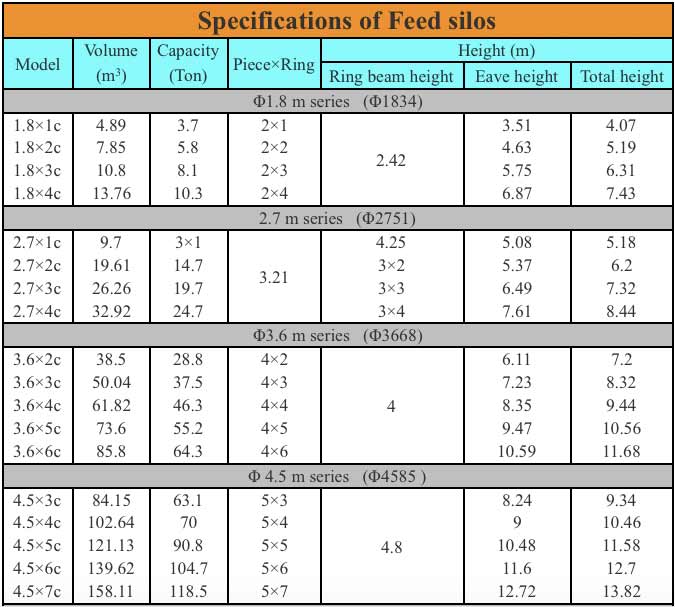 • Feed silos are made with corrugated galvanized steel.
• Integration with silo storage control system makes stored products loading or unloading automatically.
• Round-head screws in the hopper.
• The storage capacities from 5m³to 100m³ for you select.
• Stainless steel hopper is available according to your requirements which will protect your steel silos from the environmental impact, improve slippage and increase resistance to corrosion.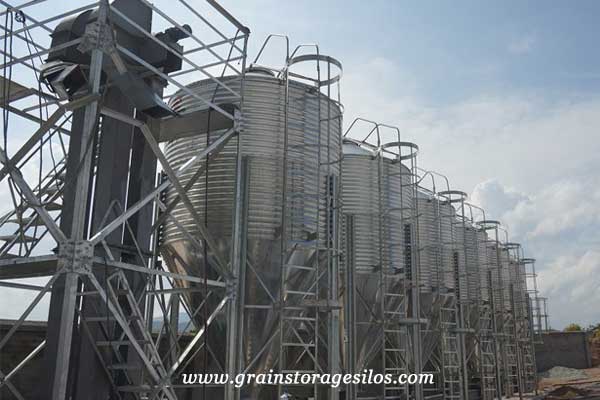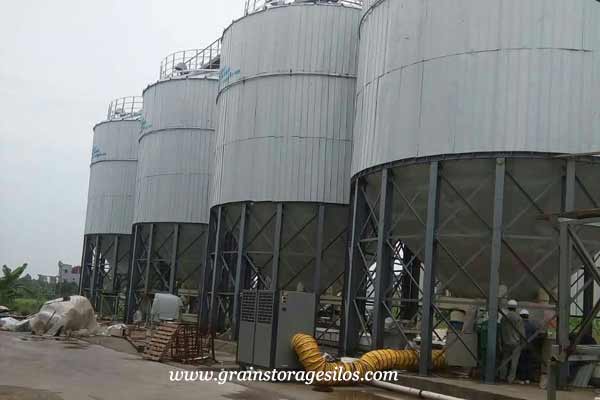 Feed pellets need specified temperature and humid to keep finest quality, so thermal insulated bins are often selected by feed factory, animal or poultry farm. Feed silos can also be designed and installed with heat retaining layer to meet your special insulated feed storage requirements. The insulated bins are widely used in places where the temperature is large difference between the day and night and humid sites like seaside, they are also widely used in places where the weather are very cold at all seasons which can influence the quality of stored feed pellets. Steel insulated bins will keep the stored products in controlled condition. The capacities of our assembly hopper bottom bins can cover the capacities from 10 tons to 10000 tons. 
The thermal insulated bin has three layers, the first layer is the inside layer, it's also the general silo component parts made with hot-dip galvanized corrugated steel sheets;  The second layer is the yellow part,  it is the insulating layer made with high-quality thermal insulation rock wool; The third layer is the colorful steel plate or galvanizing sheets.
Feed silo is mainly composed of silo roof, silo body and cone bottom.  
The feed bin body includes the wall plate, supporting column, ladders on the silo body, protect handrail around ladders, silo door and door platform (based on silo diameter and height).  
If the silo diameter is less than 3.6m (1.8m and 2.7m diameter), the silo roof can be open by the pulling bar from the ground. If the silo diameter is more than 3.6m, the silo roof is assembled with radiated beam, manhole, ladder, ladder safety or roof  handrail. 
Silo cone bottom is made of galvanized steel sheets, with 60° angle, so feed can flow easily by gravity; If the silo diameter is or less than 3.6m, the steel hopper sheet and legs will be made of galvanized steel sheet. If the silo diameter is or more than 3.6m, the steel hopper sheet and legs will be made of H beam steel with painted or galvanized.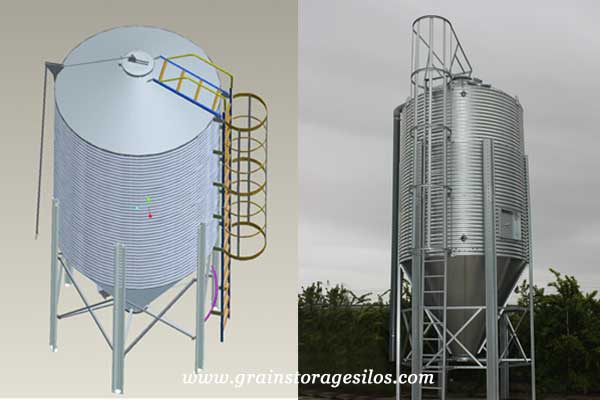 Optional 

conveying system

for feed silos
Four kinds of conveying system can be selected to handle stored materials for feed silos.
The first choice is pneumatic conveying system, which is effective and space saving, and widely selected for fine materials, like animal feed, wood pellets, etc.
The second choice is wheeled or fixed auger (Screw conveyor), whose structure is simple and operation is very convenient.
The third choice is elevator, among them bucket elevator is commonly applied for large capacity storage.
The last selected handling equipment is belt elevator for bulk materials.
Applications of Feed Silos
Shelley Engineering is competitive in manufacturing large feed bins. Our feed silos are widely applied for farms, feed plants, poultry plants, animal plants, brewery plant and plastic production plant etc. They are also popular used in storing PP/PA pellets or wood pellets etc.