Maize storage silo  (maize silo) project fabricated and installed in a small farm by Shelley Engineering had been running successfully in Philippines since 2016. The total volume of maize storage silo is 500 m3 , it is our hot sale flat bottom silo which volume can reach 15,000 m3.
Our Philippines customer ordered this maize silo to store such grain as maize, corn, soybean gathered from his local farm. The maize storage silo project includes steel silo, bucket elevator and drag conveyor. The bucket elevator loads the grain vertically into the maize storage silo, and the drag conveyor unloads  the grain to the workshop or truck from the bottom of the flat silo.
TSE flat bottom silo is composed of roof, manhole, roof handrail, natural vent, inside and outside ladder, ladder safety guard, body, inside and outside stiffener, door, door platform. The maize storage silo body and roof is made of corrugated galvanized steel sheet with 275g/m2 coating mass. All parts are made with high quality materials processed with strict manufacturing process and quality control.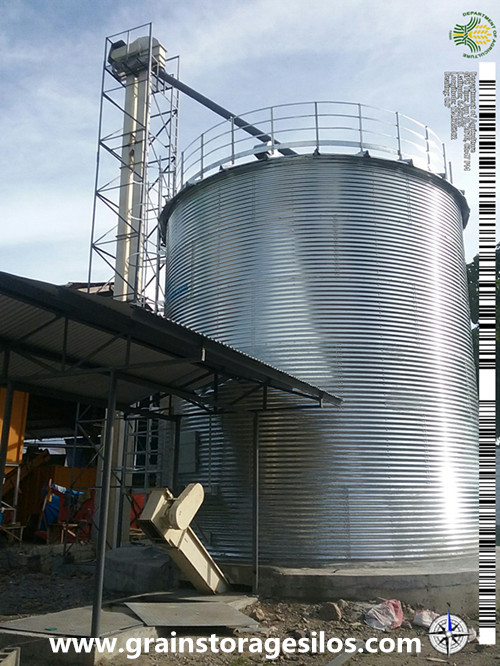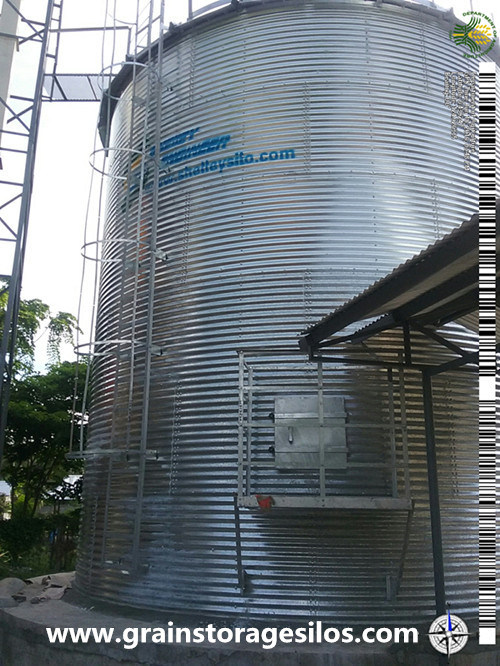 Maize storage silo specifications
Steel silo volume – 500m

3

Diameter – 8.2m

Eave Height – 9.015m

Total height: 10.92m
Bucket Elevator
The bucket elevator includes head, tube, basement, belt and bucket and driving unit. It is often applied to upload designed grain into the maize storage silo. TSE reliable bucket elevator is designed with reasonable running structure, highly resistant anti-wear steel and high-strength plastic bucket, which makes it easy for installation and longer trouble-free life span.
Bucket elevator height – 19m

Head wheel diameter – 500mm

Bucket width – 230mm

Power – 7.5KW
Drag Conveyor
Drag conveyor is designed to transport the grain horizontal. The thread rod type takeup (tensioner) can be fitted at the tail so as to meet various conveying requirements. It's flexible for multi-point feeding and discharging. Equipped with devices for speed loss and chain breakage protection are optional.
Drag conevyor length – 7m

Tube width  – 200mm

Power – 1.5KW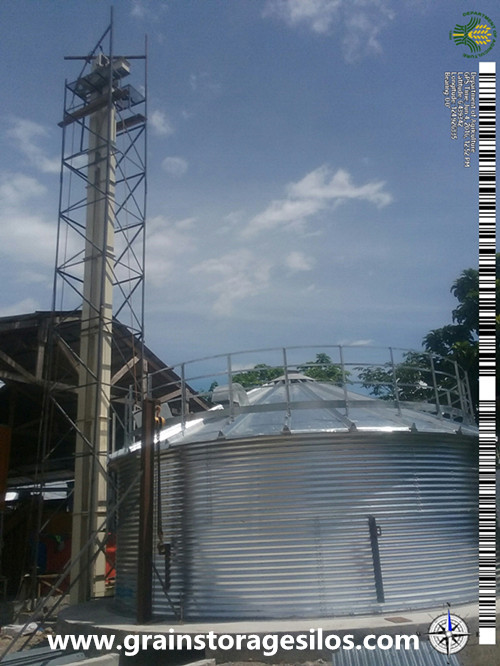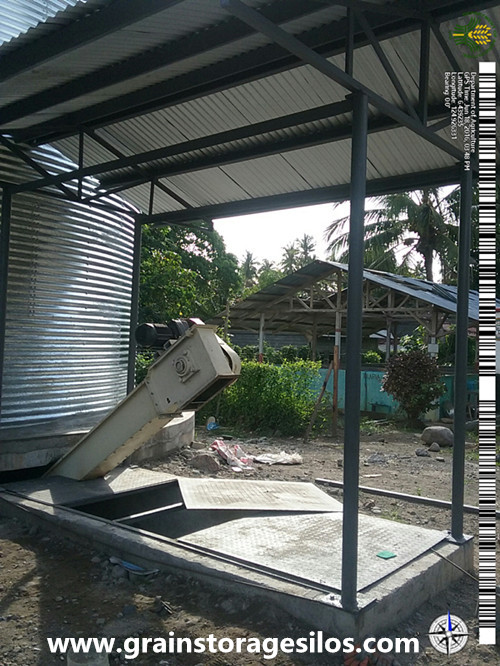 About TSE
As the professional grain storage silo manufacturers and suppliers, Shelley Engineering (TSE) had been dedicated in designing, manufacturing and supplying turn key grain storage solution for over 10 years. Our innovative, high quality products include flat bottom silos, hopper bottom silos, powder silos, feed silos, bucket elevators, drag conveyors, belt conveyors, dust collectors and grain storage control system, etc. There were more than 1,000 sets of steel storage silo projects running in domestic and 50 overseas countries since 2007. All our products are CE Certified.
Shelley Engineering (TSE) is not only manufacturing best quality grain storage silos and handling equipment products but also providing professional design and installation service. OEM, ODM, custom design and fabrication are also available. If you have any questions or inquiries,  please fill in and submit the following form, we will reply as soon as possible.
[/fusion_text][/fusion_builder_column][/fusion_builder_row][/fusion_builder_container]